RECENT NEWS
---
5/26/99
Another Harrison Hit?
A never-before-released 1967 George Harrison track is being dusted off for its commercial debut, Variety reports. British director Joe Massot stumbled on "In the First Place" while piecing together a new audio track for his 1968 cult film "Wonderwall," which features the only score ever composed by Harrison. (That picture also inspired Brit rock group Oasis' breakthrough hit of the same name.) Massot initially thought he was just doing routine cleaning of the film in preparation for its U.S. premiere June 26 in Los Angeles, but while rifling through the old soundtrack tapes Massot came upon the new tune, which the former Beatle had recorded with backup band Remo Four.
---
5/26/99
"The only thing he taught me was how not to be a father . . . He walked out the bloody door and was never around."
-- JULIAN LENNON, talking about his father, the late John Lennon, who split with Julian's mother when the boy was 5. (Source: USA WEEKEND magazine)
---
5/26/99
Liverpool Hypes 'Beatlennium'
The birthplace of the Beatles is preparing for a giant "Beatlennium" this summer to celebrate Liverpool's most famous sons, Reuters reports. More than 100,000 fans from 35 countries are expected to travel to this city in the north of England, where 150 bands will perform the songs of the world's most famous pop group. The Beatles's 1968 cartoon film "Yellow Submarine" has been restored and renovated for a new world premiere on August 30, which the Liverpool City Council is declaring "Yellow Submarine Day." The film will be released worldwide on video in September, along with an album of remastered and remixed songs from the movie. The three surviving members of the group also unearthed from the 1968 recording session a long-lost song with lead vocals by John Lennon which will be released as a single.
---
5/23/99
"New" Beatles Song A Miscommunication
When word leaked out recently about the a new found Beatles song that's been in vaults for more than 30 years finally seeing the light of day, the press (including Beatle Brunch) jumped on the Mystery Tour Bus. Now it seems "the lost track" is actually "Hey Bulldog", which was already part of the "Yellow Submarine" album. Our Beatles sources tell us that there was a little miscommunication out of press man Geoff Baker's office. The song has reportedly been remastered and cleaned up, but will essentially be the same song from the 1968 soundtrack album.
The soundtrack to Yellow Submarine will be remixed and reassembled, eliminating the instrumental tracks and replacing them with previously released material. As you may remember, there were many Beatles songs featured in the film that were not on the soundtrack, like "Eleanor Rigby" and "Sgt Pepper's Lonely Hearts Club Band". No word on whether these will be the additional tracks.
"Yellow Submarine" the film, with a remastered Surround-Sound soundtrack will be released to theaters in late summer, sources say. Meanwhile, Beatlefest is already selling more than 100 "Yellow Submarine" items in its latest catalog.
---
5/19/99
Paul McCartney is turning his grief over the loss of his wife into art. Since the death of Linda McCartney of breast cancer last year, Paul has seen to the publishing of a book of her photographs and an album of her songs. Last month, he participated in a benefit concert at London's Royal Albert Hall along with Chrissie Hynde, Sinead O'Connor and George Michael. Now the former Beatle has joined ranks with seven other British composers to write a classical tribute called "A Garland For Linda." As well as penning a song titled, "Nova," McCartney has also reworked "Lady Madonna," "Fixing A Hole," "And I Love Her," "Here, There And Everywhere" and "Let It Be" to accompany the eight original compositions. It will debut July 18 with a performance by The Joyful Company of Singers at the chapel of Charterhouse public school in Surrey . . .
---
5/11/99
A NEW BEATLES N0.1 FOR 2000?
Nearly thirty years after the Beatles called it a day, plans are afoot for the fall release of a reportedly "long-lost" Fab Four track. The song, whose title has yet to be revealed, is said to have been recorded in 1968 during the Abbey Road sessions for the film Yellow Submarine. Few particulars are known at this time, but Apple Records spokesman Geoff Baker told the Associated Press on Monday, May 10, that the song is a three-minute John Lennon-Paul McCartney tune that features all four Beatles singing and Lennon on lead vocal.
The song, which would hit the airwaves roughly four years after the "new" Beatles songs "Real Love" and "Free As a Bird," is being touted in press reports as the final Beatles single. Its release is tied to a marketing campaign for the reissue of the video for Yellow Submarine, which has been off store shelves for nearly a decade. The film's soundtrack is also slated for a proper brush-up, including a re-mixing and some changes in the track listing. Baker told the AP that some of producer Sir George Martin's original instrumentals would be replaced by previously released Beatles tracks.
At press time, no comment was available from the Beatles' camp, nor from Sir George. However, according to Bill King, publisher of leading Fab Four fan mag Beatlefan, the mysterious lost Beatles track may not be so mysterious after all. In an e-mail to rollingstone.com, King wrote: "Our best information from usually reliable sources in the U.K. is that it's 'Hey Bulldog,' which was 'lost' only in the sense that it was cut out of the film Yellow Submarine after its initial British release and before its U.S. release." However,King continued, the song did appear on the soundtrack album.
Stay tuned to rollingstone.com for further details.
JOE ROSENTHAL
---
4/22/99
A YEAR IN THE LIFE
On the anniversary of Linda McCartney's death from breast cancer, we check in on husband Paul.
For Paul McCartney, it's been a year of transition. Some close to the ex-Beatle said he kept busy to work through his immense grief. In June of last year, he attended the Manhattan gallery opening of an exhibit of Linda's photographs. By fall, he had prepared for release a predominantly instrumental album of ambient music (for which he used the pseudonym The Fireman), and he led the campaign to promote Linda's posthumous solo album "Wild Prairie." Around Christmas, he chatted with fans on the Internet, going so far as to say he may even tour again: "I like touring," he admitted, though as for being prepared for any type of performing just yet: "I'm not sure I can do it emotionally at all, to tell you the truth."
This past March he was inducted -- at long last -- into the Rock and Roll Hall of Fame as a solo performer. "It's brilliant-stroke-sad," he said at the ceremony, "because I would like my baby to share this with me." When reports in early April surfaced that he was seeing a business associate of Linda's, Sue Timney, and that they might be romantically involved, Paul shot off a press statement calling the news "scurrilous and mean-spirited . . . my dealings with Sue Timney have been completely professional." Sounding more like the old McCartney, he joined a chorus of stars on April 10, to sing "Let It Be" at a charity concert in Linda's memory. Touched by the standing ovation he received at the end of the song, Paul, 56, said in a shaky voice, "She's with us. She's loving it."
-- Stephen M. Silverman
---
4/14/99
YOKO SUES EX-AIDE
Yoko Ono continued a long feud with a former assistant to John Lennon, suing him Tuesday and claiming he stole priceless personal items after the ex-Beatle was killed. In a federal lawsuit Ono contends that the former aide, Fred Seaman, agreed in 1983 to return boxes of Lennon's personal items but held on to hundreds of photos. The lawsuit was prompted by Seaman's claim in a February letter to Capitol Records that a photograph of Lennon with his son Sean overlooking a beach in Bermuda was improperly included in a recently released CD box set. Seaman said he shot the photo and calls Capitol's use of it "an egregious" copyright infringement. Capitol sued Seaman separately on Tuesday, seeking a declaration that the photo does not infringe on any copyrights.
* Seaman provided extensive material for celebrity biographer Albert Goldman's unflattering portrayal of Lennon and in 1991 published his own book. Although he was kinder than Goldman in describing Lennon, Seaman portrayed Ono as an adulterous heroin addict.
---
4/12/99
Paul Sings For Linda
Sir Paul McCartney joined a chorus of stars Saturday night to sing "Let It Be" in an emotional tribute to his late wife, Linda, at a charity concert in her memory. The concert (for an audience of 5,000 at London's Royal Albert Hall) was to raise money for the animal welfare causes Linda McCartney supported before she died of breast cancer a year ago. The ex-Beatle teamed up with Elvis Costello, George Michael and Chrissie Hynde to perform "Let It Be." Clearly touched by the standing ovation he received when he took the stage, McCartney, 56, said in a shaky voice, "She's with us. She's loving it."
---
4/5/99
"No. I can't say that I ever did."
-- JULIAN LENNON, who turns 36 on Thursday, answering Night magazine interviewer Robert Henry Rubin's question, "Did you feel psychically linked to your father (John)?"
---
4/5/99
McCartney Denies Affair
Scratch that story about grieving former Beatle Paul McCartney finding comfort in the company of 52-year-old textile designer Sue Timney following the death of his wife Linda. After Britain's Daily Mail ran the story last Friday, Sir Paul issued the following statement: "My dealings with Sue Timney have been completely professional, and my only meetings with her have been for business purposes." McCartney said he and his daughter Mary have been working on an exhibition of Timney's textiles and Linda's photographs.
---
3/23/98
Remembering Linda
Elvis Costello, Tom Jones, Sinead O'Connor and George Michael will join forces April 10 for a concert in London to honor the memory of Linda McCartney. Chrissie Hynde is organizing the event, to be held at the Royal Albert Hall. Proceeds will benefit several animal rights groups. Hynde's band, the Pretenders, will accompany the headliners. Sir Paul McCartney has reportedly approved the event, but it isn't clear whether he will be there.
---
3/18/99
At the Fourteenth Annual Rock & Roll Hall of Fame Induction Dinner held Monday (March 15) at the Waldorf-Astoria hotel in Manhattan, the defining rock & roll moment came when inductee Sir Paul McCartney invited his daughter Stella to the stage, and she stood beside him wearing a white tank top with the words "About Fucking Time" stenciled across her chest. It was a defiant soy bomb thrown in the face of not only VH-1, which was filming the ceremony for broadcast, but of a critical establishment that has often overlooked or even ridiculed her father, failing to induct him when he first became eligible three years ago. The delay, of course, robbed her late mother, Linda McCartney, the chance to share the joy. The shirt got one of the biggest cheers of the evening, and father and daughter clutched each other like true soul survivors -- broken, sad and triumphant.
---
3/17/99
Neil Young will usher Paul McCartney into the Rock and Roll Hall of Fame's hallowed halls (Macca's second induction) at tonight's bash, according to Young's publicist Bob Merlis; the show will be broadcast on VH-1 Wednesday night. Young is a longtime friend of the former Beatle, and the two were last together at Linda McCartney's funeral in April '98. Young dated the former Linda Eastman in the late Sixties and kept up a warm friendship with her through the decades, seeing the McCartneys whenever he was in London.
As for Sir Paul, the British press reported over the weekend that he has returned to the studio for the first time since his wife's death. He arrived at London's Abbey Road a week ago, where he met up with Pink Floyd's Dave Gilmour and Mick Green from Johnny Kidd and the Pirates. The three of them reportedly jammed on cover versions of Fifties and Sixties chestnuts. But according to a source at the studio, this wasn't just recreational recording. Sunday's Daily Mirror reports that McCartney plans to use some of the tracks on a forthcoming album . . .
---
3/12/99
Julian Lennon Displaying a Photograph Smile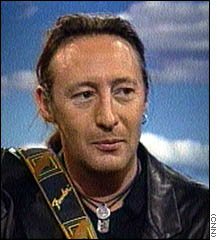 (CNN) -- When you're father is one of the most recognized figures in the history of rock 'n' roll, and you have dreams of being a rock star yourself, life can be a constant struggle to prove yourself. Just ask Julian Lennon, who has lived in the shadow of his father, former Beatle John Lennon, throughout his five-album career.
Lennon admits that he has often struggled with dealing with the legend of his father, which grew ten-fold when John Lennon was gunned down by a crazed fan outside his New York City residence in 1980. "It's certainly been a handful," he says of growing up with the Lennon name. Despite struggling with his father's death and legacy, Julian released four albums between the years 1984 and 1991, with combined sales of five and a half million. But when Lennon's independent label Charisma records was absorbed by a larger label, he felt suffocated by this new control over his career. So he quit the music business.
But now, after a seven year break, Lennon is back with a new CD, "Photograph Smile." What convinced him to come back? "I think the thing was that if I left behind the music industry, that the last four records were not a good enough legacy to leave behind," Lennon told Showbiz Today. "So I felt it was necessary for me to come back with an album that I felt complete with."
One song on the album, "Day After Day," is indicative of the autobiographic perspective Lennon takes in his songwriting. "Basically, it's about a soldier who's at war, any war," says Lennon. "The only thing that keeps him going is the hope and faith that one day he's going to make it back to his friends and family and the people he loves. And that related to me and anyone who works away from home so much."
---
2/26/99
Why do so many rockers go out of their way to pick on Al Gore? First, Eddie Vedder, Peter Buck, and Chris Cornell, and now Paul McCartney. Seems the former Beatle was informed by PETA campaign director Dan Mathews that Gore had recommended "High Production Volume Chemical Testing" on birds, fish and rabbits to show that substances like turpentine and rat poison are toxic. (The tests would entail force-feeding the substances to the animals and rubbing corrosive chemicals into open wounds, PETA says.) Upon hearing the news, an incensed Macca dashed off a fax to Gore appealing to him to "save the lives of the countless animals who will be tortured and killed in the HPV chemical-testing program." McCartney ended with a quote from an EPA official that read: "It's a good time to be a lab owner and a bad time to be a lab rat, Mr. Gore. Compassionate people everywhere are waiting for you to prove him wrong" . . .
---
2/24/99
Julian Lennon Learns To Smile
Maybe some things are better the second time around. You have to believe that that's the case for Julian Lennon, who embarked on a career in music in 1984, only to be compared relentlessly and mercilessly to his martyred father, John, whom he mostly knew from afar while being raised by his mother. After a Top 10 hit with "Too Late for Goodbyes" from his debut album Valotte, Lennon ran into a critical brick wall that sunk subsequent albums like The Secret Value of Daydreaming, Mr. Jordan and Help Yourself.
Lennon quit the music business and repaired to his home in Northern Italy, where he reflected on his life and pursued other interests, including architecture, interior design and cooking. Eventually, he began playing again, and decided to take another run at music -- but this time on his own terms. He recorded his new album, Photograph Smile, at his own expense and released it via his own indie label, Music From Another Room.
The album finds Lennon staking out his own territory at last on songs like the Eastern-influenced "Crucified" as well as some lovely ballads and the cheekily Beatlesque "I Don't Wanna Know."
According to Lennon, the best thing about Photograph Smile is that it offers him a chance to square his position in music history a bit, and perhaps even settle a few scores: "The gratifying thing about this record is the reviews -- which have been the best I've ever had in my life -- it's very much like a bonus," he says. "Like being able to stick my finger up at all those friggin' assholes back then who held me back."
He is, when all is said and done, his father's son.
You made a run at the music business in the Eighties, but then disappeared for most of this decade. Did you always believe you'd get another chance, or did you think maybe you'd had your day?
I wasn't sure I was gonna get back into music, because I thought it was an awful nightmare business, and had nothing to do with music whatsoever. The experience I had of doing albums, which was coming off the road and being ordered to go into the studio and record a hit album in two months, when I'd just come off a world tour -- I was not a happy camper. After my demise with the second album, which I totally blame Atlantic Records for -- which now they admit to, a little friggin' late, if you ask me -- it was ten years of playing catch-up to try and get some respect back. There was so little time to experiment, so a lot of that was done on albums, and that doesn't favor well with the public or with critics when they want to see some consistency in what you're doing.
So what changed to make you decide to have another go at it?
The approach I'm taking now is far from the routine of the music industry. These days, I'm the yes-no man. It's about me and my career and my life, which is the way it should have been in the first place, really. I can wake up in the morning and look in the mirror and know that I've made the decisions, and know that I haven't stabbed myself in the back or lied to myself. I believe in what I'm doing, and I'm gonna support it 100 percent, unlike the music industry.
The other thing that happened, though, was, because I had so much time to think, I just looked back at my career, and I didn't want to leave the last couple of albums as my legacy in the music industry. It's just not good enough. I wanted to do an album I was wholly proud of, one that I had total control over. I have to be thankful I got the chance. If I hadn't done this, I probably would have regretted it for the rest of my life.
The other night when you were on Letterman, you were wearing a T-shirt that said "Lennon and Proud Of It." Have you become more comfortable with your father's legacy?
Abso-friggin-lutely. As far as I was concerned, most of the shadow was a media thing. And the critics always took it to another level. For me, I felt like an alien, rather than "the son of," although I was being promoted as "the son of." And the problem was, every album that I released was being compared to the Beatles' entire catalog rather than where they were at the same age and level of experience I was in my life. I felt that was unfair to say the least. It's like when people ask me about Oasis -- it's very obvious there are comparisons to be made, but at the end of the day, do you like the song or don't you?
It seems unfair that everybody else can draw on your father's music, but you can't.
Right. That's one of the reasons why I did a song like "I Don't Wanna Know." After I felt like I'd proved my own self worth as a writer with the rest of the material, I said, well, maybe I'll have a bit of a giggle with this, and write something that's so Beatlesque, and so mid-Sixties, and sing it as close to dad as possible, and just wait for those guys to say, "Well, you sound so much like him." It was time for me to finally say, "Well, yes I do. And now that we both agree, can we move on from this laborious point that you've been droning on about for fifteen years?"
For years you had to battle those comparisons with your father. Do you feel like now the public has set up a sort of competition between you and Sean?
No, that's all media crap as usual. What happened was, that sort of burst out in Europe in so many of the tabloids that we were in this artistic battle of the Lennon sons, and who was gonna come out on top, and all of this. There was none of that. Sean and I were, more often than not, having a cup of tea or a drink down the road having a great chat about life while all of this stuff was going on. It's just the usual thing to start aggravation and to sell papers.
So now that you've got the record out there, what are your other ambitions?
There are so many talented people out there, and unfortunately, they get thrown to the wayside because they don't have a chart-topping hit. And that's wrong in my eyes. Hopefully, with the success of the album, and hopefully, the company, I'll be able to introduce other artists who I feel are incredibly talented on their own terms. And let them express themselves. I don't feel there is enough of a forum for them. As with myself.
Hmm ... I've got one word for you, Julian -- Apple.
Yeah, I know about Apple, thank you very much. Listen, that was run very badly, and screwed so many people over. But my point of view is that there is a niche out there for me and for people who write serious songs. If I can make that happen, then I'll certainly try.
---
2/23/99
Oh dear . . . you're being inducted into the Rock & Roll Hall of Fame on March 16, and because you've already been inducted once before (with that band of Beatles you used to run with), you figure the public could do with a little refresher course on your latter-day achievements. What's a knight like Paul McCartney to do? Simple: release a limited edition, Silver Anniversary version of 1973's Band on the Run, generously fattened with a bonus disc of twenty-one unreleased bonus acoustic and live tracks. The Capitol Records reissue of the classic Wings album will hit the shelves March 9 . . .
---
2/18/99
A John Lennon Museum
Even though the Japanese economy is faltering, someone still managed to find the funds to launch a John Lennon museum. A Japanese construction company called Taisei Corporation signed an agreement with Yoko Ono last year to begin work on the monument to the late Beatle's life. So far Ono has pledged guitars, manuscripts, clothes and artwork owned by Lennon to fill the space, located in suburban Tokyo. If all goes well, the museum will open it's doors in autumn of 2000 and will rake in enough dough to boost the Japanese economy in the first year of the Millennium . . .
---
1/28/99
Beatles Shrine Fights For New Life
With such albums under his belt as Best of the Beatles, The Beatle That Time Forgot and Once a Beatle, Always..., Pete Best has never seemed in a terrible hurry to put the past behind him -- and it's a trait that evidently runs in the family. Roag Best, brother and now manager for the pre-Ringo Beatles drummer, is looking to re-open the Casbah, one of the venues where the band got its start.
This year marks the fortieth anniversary of the opening of the makeshift coffee house that was started by Pete and Roag's mother, Mona, to provide young bands with a place to play in the late Fifties. The venue, located in the basement of the Best's large home in West Derby, Liverpool, has been closed since the early Sixties, but with Pete Best touring again and the anniversary just around the corner, the timing seems right for a little Beatlemania.
It seems the British National Trust paved the way for profiting from Beatle family homes when they strayed from traditional castle purchases last summer and invested in the McCartney home where Paul spent his formative Beatle days. According to Beatles Festival organizers, there has always been a demand by fans to see the Casbah, with the only reservation to opening the venue sooner being the basement was not equipped to accommodate the crowds.
Plans are in the works to open the coffee bar in accordance with the annual Beatles Convention, a Fab Four gathering that takes place in the Merseyside city every August. Whether the Casbah will remain a permanent fixture or just be available for special events remains unclear.
JOLIE LASH (January 28, 1999)
---